Are you sitting comfortably?               

Original Article "The Mover": 15/03/18
Updated: 12/05/20

This Magazine Article was published in "the Mover" which is an industrial trade magazine. 

(https://themover.co.uk/features/2018/03/15/are-you-sitting-comfortably-)
Do you get back pain when driving in a car or van? If so, top chiropractor Jonathan Grendelmeier has some good advice.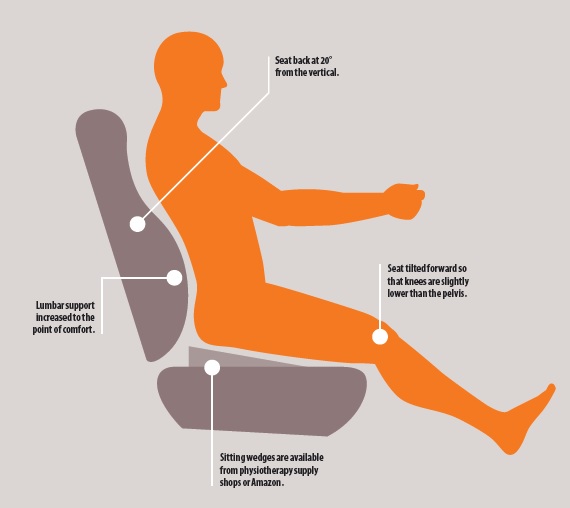 Some time ago I was asked to write an article on the driving set-up in a van, so here are some tips that will help your set-up and improve your driving position, especially if you suffer from back pain.    
One of the problems I have discovered is the huge variety of vans out there and the difference in the space left behind the driver's seat. Some French vans, for example, have hardly any space for the seat to tilt back which means you will have to be a bit more creative to make sure your back does not get stiff and painful on the long drives. 
Unfortunately, there is no such thing as an ideal driving position because our backs don't like sitting. In fact, it is the prolonged sitting and not moving that causes anatomical structures such as the discs to slowly break down as they experience too much pressure. One of the worst things that you can do is to sit for a prolonged time and then suddenly jump out of the van and bend and twist as this could put your back under tremendous mechanical pressure. One of the best pieces of advice is to gently (and safely) try to move your back when you are driving.  When you have the opportunity to break, have a good stretch and wait for a short time before bending again. A rule of thumb is to break every 45-60 minutes, which can be difficult when you are on a tight schedule.    
Many of my patients have told me that they have the seat as upright as possible as they believe that this is the best position.  Even though this may help some people, the best position is to lean the seat around 20 degrees back from the vertical as this will decrease the mechanical pressure. This is why a recumbent position on an exercise machine in a gym will feel much better on your back then spending hours hunched over a road bike that increases the forward and flexion position of the spine.   
The angle of tilt of the driver's seat is important too. Ideally, this should be tilted at around 11 degrees forward so that the knees end up slightly lower than the pelvis. If the legs are tilted upwards, as in some sports cars, this increases the pressure on the back and the discs that are situated between the back vertebrae. Some seats will be adjustable but, if not, you can buy sitting wedges from physiotherapy supply shops or Amazon.  I would advise a relatively firm sitting wedge and, if you are tall, be mindful of the height so that you don't end up squashed against the roof.   
The final bit that is important is the lumbar support. Some vans will have the option where this can be adjusted and I would increase maximally to the point of comfort. If you can't do this then use a rolled-up towel or a cushion, ideally inflatable as these are very comfortable, to make sure you maintain a good lumbar or lower back curve with your back being slightly arched. This will decrease the pressure on the spine and make for a much better driving experience.  

Jonathan Grendelmeier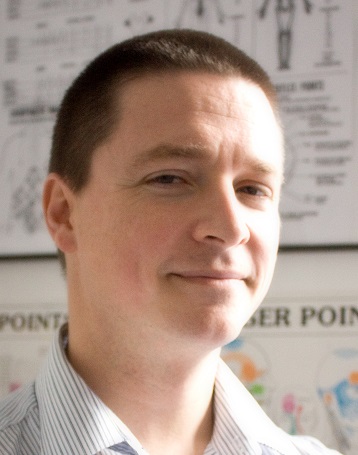 Jonathan, whose qualifications include BSc(Hons), MSc, PG Dipl Western Medical Acupuncture, studied at the AECC University College Bournemouth (formally known as the Anglo-European College of Chiropractic) and graduated in 2000. He is a member of the British Medical Acupuncture Society and the United Chiropractic Association. He has post-graduate qualifications from the University of Herts in Medical Acupuncture and specialises in pain treatment, sports, children and pregnancy.  

www.advancedpainreliefclinicmk.co.uk